Falkland Islands, South Georgia, Antarctica-Nov. 20-Dec. 8, 2011, and November 20 - Dec 8, 2012.
Updates written by OOE Polar Historian and Expedition Leader David McGonigal
Introduction
Polar Legend gets his wish 70 years late
Renowned Antarctic explorer, Frank Wild CBE had his last wish granted 72 years after his death when his ashes were laid to rest alongside Sir Ernest Shackleton in a tiny graveyard in one of the remotest places on earth.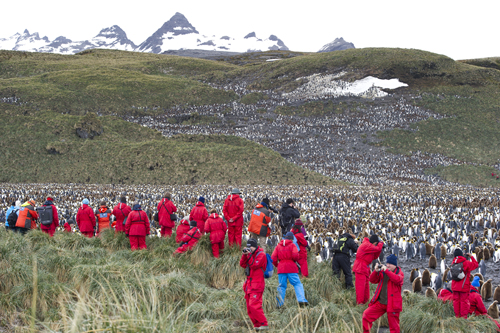 Wild died and was cremated in 1939 in South Africa but his ashes, which were lost to the world for many years, were found only in 2011 by British historian and author Angie Butler. His last wish that he be buried on South Georgia Island, next to Shackleton, was never granted due to the outbreak of WW11 two weeks later.
Belatedly, Wild was buried on November 27 2011 on South Georgia Island in the whalers' graveyard by the ruins of Grytviken whaling station.
Antarctic expedition leader and historian David McGonigal said It's likely to be the closing event of Antarctica's Heroic Age. "The Heroic Age was marked by the truly remarkable feats of the great explorers like Shackleton, Robert Falcon Scott, Douglas Mawson and Roald Amundsen and this event is even more significant as it takes place just two weeks before the centenary of Amundsen and his Norwegian compatriots achieving the South Pole for the first time."
Wild was Shackleton's trusted second-in-command during the ill-fated Trans-Antarctic Expedition aboard the Endurance (1914-1916). He and 21 crew mates remained on desolate Elephant island for over four months after the Endurance was lost while Shackleton and five others sailed a seven metre lifeboat to South Georgia to organise a rescue.
Frank Wild CBE is one of the great Antarctic explorers. In 1901 both he and Ernest Shackleton were members of Robert Falcon Scott's expedition on the Discovery. In 1908-09 he was with Shackleton on the Nimrod expedition and in 1911 he joined Douglas Mawson's Aurora expedition before being reunited with Shackleton aboard The Endurance From 1914-1916
One Ocean Expeditions Principal Andrew Prossin, David McGonigal, Angie Butler, and several relatives of Frank Wild as well as the Hon. Alexandra Shackleton, the grand daughter of Sir Ernest Shackleton, will accompany Wild's ashes to South Georgia onboard the One Ocean Navigator, under long term charter to One Ocean Expeditions.
"The significance of the event will be recognized by the South Georgia Government at an official reception at Government House, Stanley, as well as the issuing of a set of commemorative stamps. A minister will sail from the Falkland Islands to conduct the service and the funeral proceedings at Grytviken that will be overseen by South Georgia's Government Officer, Mr Pat Lurcock" said McGonigal. "With favourable sailing conditions, the burial ceremony is expected to be conducted on Sunday 27 November 2011. "
Background :
Sir Ernest Shackleton died aboard the Quest in Grytviken Harbour at 2.50am, January 5, 1922. He was buried there and his grave is a place of pilgrimage. This year, the long search by Angie Butler, a British journalist and polar historian, finally ended when she found Wild's ashes in Johannesburg. Her search is recounted in her book The Quest for Frank Wild, that was released in the UK on 1 August 2011. The South Georgia government gave permission for Wild's wish to be carried out and his ashes to be reburied next to The Boss. Antarctic tour operator One Ocean Expeditions is carrying them on a regular 18-night voyage departing Ushuaia, Argentina on November 20.
Heroic Age Closure Voyage – November 21, 2011

Was one of the earliest moments in PR when sailors referred to a ship "coming alive" in really bad weather? We boarded One Ocean's One Ocean Navigator in Ushuaia the day after the ship had been hammered by a bad storm while rounding Cape Horn.

Even the most stable ship in Antarctica had "come alive" and left a lot of folk wishing they no longer were, as well as deposited a lot of things where they weren't meant to be. The cabins were restored and gleaming but I had to extricate a suitcase I'd left in the hold from under several boxes that had relocated.

Dropping the lines took its usual course. A lot of nervous passengers came on board but were reassured when they found their bags in the cabins, people photographed other people in bulky SOLAS lifejackets during the lifeboat drill conducted in a cold wind blowing down the Beagle Channel, and everyone rushed for dinner.

The after-dinner briefing was illuminating. We have Ron Naveen on board who runs Oceanites with the US National Science Foundation. His 28 years of censuses tell us all what's happening in the penguin world. He, and most of his six crew are to be dumped onto a yacht in the South Shetland Islands in about 10 days from now.

When the Hon. Alexandra Shackleton and the Wild family (already "the Wild Bunch") were introduced and the funeral services outlined, the reactions were mixed. Some nodded with the wisdom of the pre-informed. I was impressed to find we were not just picking up a minister for the burial service but a gravestone to go on Wild's new grave in Grytviken, too. And one of my dinner companions burst into tears. That was a surprise.

She later confided that she found a first edition of Alfred Lansing's "Endurance" among her parents' effects about 15 years ago and reading that gave her the strong desire to visit Antarctica. To find that she was going to participate in burying Frank Wild in his final resting place created complete emotional overload.

I share her emotions, if not their manifestation. As albatross follow and Magellanic penguins watch us pass I've never felt so happy heading to a funeral.
---
Heroic Age Closure voyage – November 22, 2011
I write this as we approach the western side of the Falkland Islands. The ocean and winds have been kind to us today, pushing us on with a following sea. Tomorrow we'll be making our first landings for the voyage. Our mandatory briefings on what to do in Zodiacs and IAATO's responsible tourism behaviour in Antarctica have been completed. Overall it's been more restful than expected.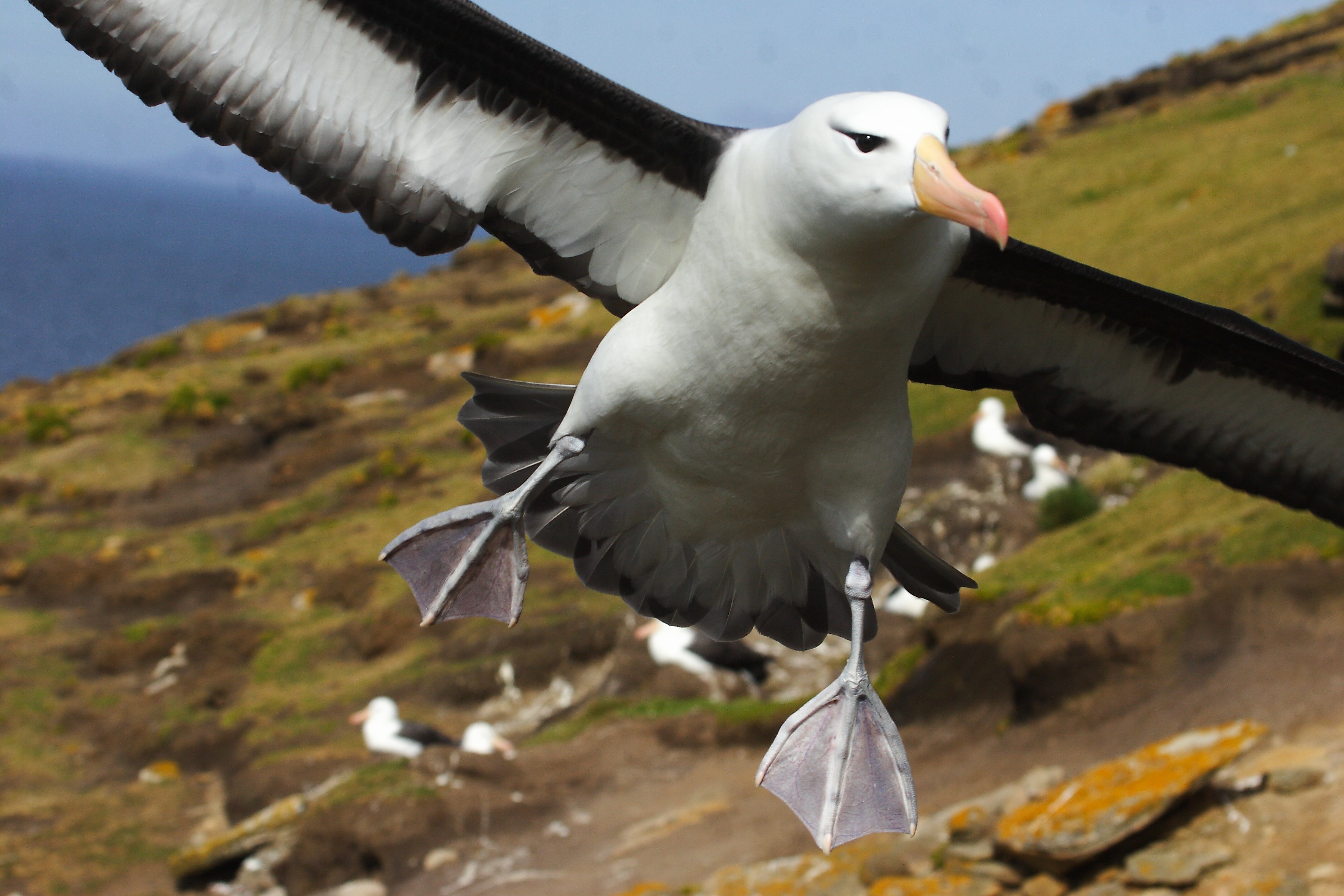 However, that wasn't the case exactly 96 years ago tonight, when Shackleton's vessel, the Endurance, finally sank through the ice. That was at 5pm on November 21, 1915. Perhaps there's something in the old superstition about it being bad luck to change a ship's name after all? He'd changed it from Polaris to Endurance from his family motto "By endurance we conquer"
For much of the previous month she had been supported solely by the ice that pierced her sides and prevented her from sinking as it crushed and destroyed her. Then, as Frank Wild reported: "On November 21st, Shackleton was on the lookout platform and everyone else in the tents when we heard him shout 'she's going boys!' Running out we were just in time to see the stern of the Endurance rise and then a quick dive and all was over. Shackleton told me later that it was the saddest moment in his life, but none of that showed in his demeanour and to all appearance, he was his usual cherry self. I felt as thought I had lost an old friend and I think all hands had a similar feeling."
However, not everyone was so sentimental. The ever-practical Frank Hurley wrote in his diary: "We are not sorry to see the last of the wreck, for we have rifled it of everything likely to be of value to us; apart from being an object of depression to all who turned their eyes in that direction, it was becoming more dangerous daily to those visiting it." It was a defining moment, especially for the sailors who related so closely to their ship and were distraught to lose her. Shackleton's steadfast leadership was to prove vital in maintaining the morale of his shipwrecked companions.
A month earlier, when they'd abandoned the Endurance and retreated to five tents on the ice, amid "the groaning and cracking of splintering timbers" Shackleton matter-of-factly announced: "Ship and stores have gone—so now we'll go home." His unclouded optimism was an inspiration.
It's remarkable to be following in his wake and to feel so close to both Wild and Shackleton on this voyage.
---
The Last Voyage of the Heroic Age – November 24, 2011

Several of the ship's company were guests of honour at Government House today. With our need to sail for South Georgia by mid-afternoon, morning tea (with scones, jam and cream) was provided in the quite impressive reception hall. It was hosted by acting Governor, Mr Ric Nye and attended by Richard McKee, South Georgia's Executive Officer and other officials. Mr Nye decided to adopt the ambitious title given by David so the whole party signed in under the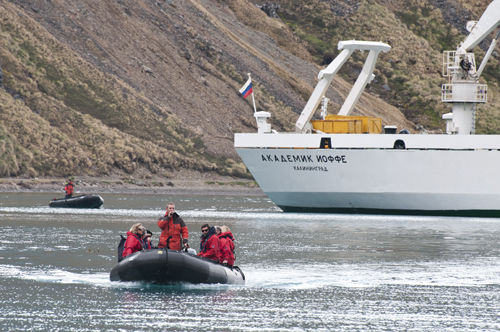 heading of "The Last Voyage of the Heroic Age". Of course the Hon. Alexandra was there and the Wild Bunch and Angie Butler and the concentration of media flashes could have lit the moon. Local and international press were on hand in all forms, written, spoken and televised. It was also a chance to meet the new passengers – the BBC film crew and our service-
officiating minister, the Rev Dr Richard Hines and Mrs Hines. Ric Nye gave a short speech in which he reflected on the significance of the undertaking. In general discussion it was remarked that there was relatively little deliberation upon the matter – once Wild's ashes had been found the Governor quickly decided that his last wishes to be buried in South Georgia by The Boss should be respected. Cakes consumed, the party took pictures of each other in the conservatory, where grapes are growing, before rugging up and plungin back into the wilds of a very soggy Stanley day.
---
The Last Voyage of the Heroic Age – November 25, 2011
Today was a big day for the voyage. For today, the instigator of the whole Wild project (if a reburial can be called that) spoke on her quest. And seven years work was very clearly a quest or an obsession. Angie Butler has revealed all but the very last steps of her search in her book "The Quest for Frank Wild- and today we heard those last steps.



At the end of the talk she was asked if she felt Frank Wild's presence at any time and she said "no, not directly. But there were certainly times when I felt I should proceed in a certain direction and that direction turned up a new lead."
The most shocking revelation from Angie's talk was how two newspaper reports skewed every subsequent report on Frank Wild's life. The first was when his farm had failed and he was working behind the bar in a South African pub. A reporter found him and the news that went around the word was that one of the great polar explorers was now working in a bar for four pounds a week. The intimation of destitution was clear.

Even worse, a detailed later newspaper report of his funeral was that, effectively no one came. Or just his wife and very few others. Angie's research has turned up a more accurate report that there was a very substantial funeral procession that stopped traffic in Johannesburg.

It's not only admirable that Angie has taken the time to learn the truth but it's gratifying to discover that one of the polar greats was recognised as that up till his death. Indeed, the early reports and subsequent investigations always refer to Frank with his title as Commander Wild. To learn he died with dignity, respect and surrounded by the love of his wife of seven years is heart warming and puts the polar world back in alignment.
---
The Last Voyage of the Heroic Age – November 26, 2011

I had a drink with Frank Wild tonight. There were a few of us there, old shipmates and new. It was in the Ioffe's expedition room with the whole
staff of One Ocean, the six members of the Wild family onboard, Alexandra Shackleton, Ron Naveen from Oceanites, Angie Butler and Rev Richard and his wife. It was pretty crowded in there, with waders and float coats hanging all around. And we were privileged to see Michael Moore demonstrate that he can tie a bowline knot with his toes.

The guest of honour, Frank Wild, arrived in a very inappropriate jaunty floral zip-up bag, like a large soft purse. His urn was the one in which he was placed after his cremation – it's pine but has been painted with a speckled effect to look like stone. He sat on the work bench as did many of the staff.

Of course, a special occasion deserves a special drink. We had exactly what Frank had. Or as close as the intervening century allows. His Nimrod expedition of 1908 was supplied with a very nice McKinley's Scotch whisky in a presentation case marked "British Antarctic Expedition 1907". In one of those inexplicable events in history, three cases of the whisky ended up buried and lost until this year. I bet the members of Shackleton's stranded Ross Sea Party will be sad they missed that find. One case was brought back to the UK and some drops of whisky extracted by syringe and tasted and analysed. No full drams for a drink so rare, unfortunately. But reports are that it tasted good after its century on ice.
Then the whisky was painstakingly reproduced, as was the bottle and the packaging. The original straw padding didn't fit current world quarantine requirements so it was replaced with substitute synthetic straw – I didn't know that but Alexandra did. It was released to the public just a week before we sailed. I managed to buy a bottle in Willoughby NSW for $A200.

I opened it standing next to Frank and we poured it into cups, just a splash as there were about 30 of us in the room. And we had a toast to Frank, those of us who have come from around the world to carry him to his final resting place. He would have enjoyed the night as it turned into
a rollicking party though it was brief as we are planning a 4.30am excursion. I rather think he would have approved of that too – he and Sir Ernest liked to keep the men busy. For those of us who were there it really was a night to remember.
---
The Last Voyage of the Heroic Age – November 27, 2011
In a moving ceremony in the tiny Lutheran chapel and white-picketed graveyard in the now-derelict Grytviken Whaling Station the ashes of Sir Ernest Shackleton's trusted lieutenant Frank Wild were finally laid to rest alongside The Boss today.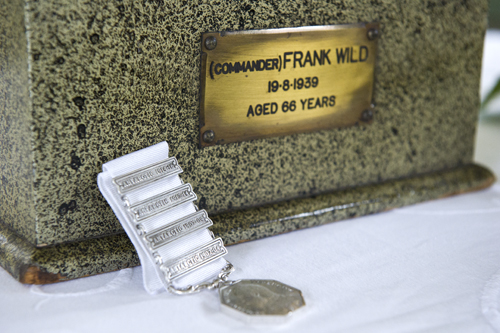 Wild sailed to Antarctica four times with Shackleton between 1902 and 1922 on the Discovery, the Nimrod, the Quest and the legendary Endurance expedition, perhaps the greatest of all maritime sagas of survival. When Shackleton sailed a small lifeboat 1200 km across the Southern Ocean to seek rescue he left Wild in charge of the remaining 22 men on desolate Elephant Island. Shackleton finally returned five months later to find all still alive, bolstered by Wild's confidence in Shackleton not to let him down.
Shackleton died on the Quest and was buried in Grytviken in 1922; Wild died in South Africa in 1939. He wished to be cremated and buried alongside his beloved leader but WWII intervened. Then his ashes were lost. Only this year did British historian and author Angie Butler find them in a crypt in Johannesburg. The ashes were carried by Butler, accompanied by some of Wild's great nieces and nephews and the Hon. Alexandra Shackleton, Sir Ernest's granddaughter. They sailed aboard One Ocean Expeditions' One Ocean Navigator with 100 passengers from Ushuaia to South Georgia via the Falkland Islands.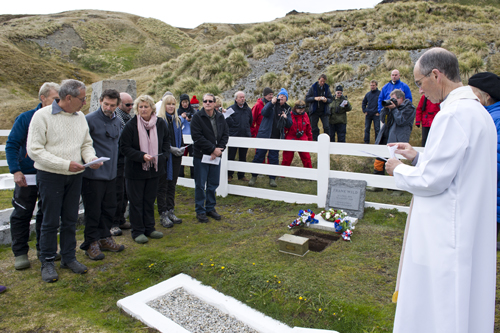 The simple church ceremony was performed by Rev. Richard Hines, an Anglican clergyman from the Falkland Islands. It was attended by most of the ship's crew and all
the British scientific staff based on South Georgia. After the ceremony a funeral procession made its way through the ruins and past wallowing elephant seals, gleaming king penguins and snapping fur seals to the tiny graveyard. There, a grave had been dug in the peat and Julie George, a great niece from Melbourne, Australia, placed the urn containing Wild's ashes in their final resting place next to Shackleton.
The tradition for every ship's crew into Grytviken is to go first to Shackleton's grave and have a toast and pour a libation on his grave.
Today, for the first time, the passengers of the One Ocean Expeditions' voyage completed a new ritual – a toast to both Shackleton and Wild together again, and forever, 90 years later.
---
The Last Voyage of the Heroic Age – November 28, 2011
People travel for very different reasons. On an Antarctic voyage the majority of people are here for the wildlife, specifically penguins but they'll take as many albatross, whales and seals as we can deliver. Then there are the history buffs and those seeking the ice. Finally we have the few who don't care about Antarctica but want to visit all seven continents. Despite the wide diver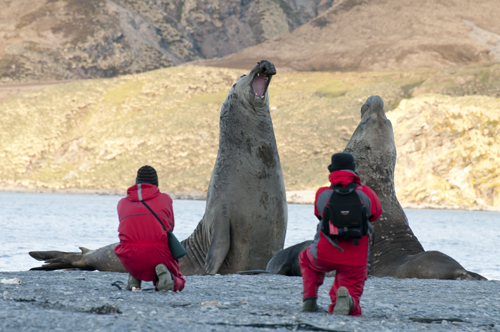 sity of wildlife we've seen in the Falklands and South Georgia, the events surrounding carrying Frank Wild to his final grave have overshadowed them.
So the day after the funeral was seen as something of a challenge to us – how fast could we change the orientation of the voyage. Fortunately, our first destination after Grytviken was Gold Harbour, perhaps the highlight of any visit to South Georgia. There's always a bit of swell running so the best place to land is at the northern end of the beach where the elephant seals congregate. They were there in great numbers (and greater bulk) and there were their usual aggressive cousins, the fur seals.
The majority of the beach and back into the tussock grass was the domain of thousands of King penguins. These are the second largest penguins and have very colourful bright orange beaks and necks. Their chicks often look the same size as the adults but are apparently clad in very thick fur coats (the first explorers named them the "Woolly penguin"). The moult to adult colours is like the world's worst case of acne. Interspersed among them were giant petrels, kelp gulls and skuas, all looking for the weak to provide a meal. Behind this natural abundance are towering mountains draped with hanging glaciers. It's nature at its most awe inspiring.
We arrived in calm conditions with four hours to spend ashore. By the time we were ready to depart the wind was rising and the cloud descending. But any element of the outside human world was forgotten and yesterday's funeral seemed a very long way away. Cameras and souls satiated we left just before conditions would have made that impossible.
All that was left to do in South Georgia was take the ship deep inside the cleft of Drygalski Fiord then sail past the point Captain Cook named Cape Disappointment and set our track for Antarctica. Our task in South Georgia was complete.
---
The Last Voyage of the Heroic Age - November 29, 2011
Apparently those who have been in it describe war as long periods of boredom punctuated by moments of great excitement. Reverse those ratios to great periods of excitement and some sea days and you have a description of the long Antarctic cruise that includes the Falklands and South Georgia. There's a sea day to the Falklands then two days of landings, two days to South Georgia and three days there, these three days to Antarctica and five days there then two days back to Ushuaia. The landing days are so intense that the sea days give a welcome chance to recuperate, ready to go again when land appears on the horizon.
We are sailing southwest from South Georgia towards Elephant Island and it's about two and a half days at sea. As we bounce around in our 116-metre ice-strengthened vessel we think of Shackleton and Worsley and the other four men in the tiny James Caird that was about the same size as our inflatable Zodiacs. They were tough!
---
The Last Voyage of the Heroic Age – November 30, 2011
Another full day at sea. And the sea isn't letting us go lightly. It was snowing this morning and we have some Australians on board who have never seen snowfall before. There were talks through the day and David, our resident artist, taught a large group of enthusiasts how to draw penguins at afternoon tea time. Many of the results were scarily good or at least competent. The Wild bunch and others ended the night in the bar with singing and card games. They have their own special T-shirts with a portrait of Frank Wild (with the pipe that he was given by Rudyard Kipling) on the front and inscription "The Final Ashes Tour" and the voyage dates on the back. I expect Frank would have approved.
Elephant Island is drawing nearer but it's a slow slog. We should be there sometime tomorrow but with the ocean swell that's running few hold hopes that we'll get close.
---
The Last Voyage of the Heroic Age – December 1, 2011


I'm writing this as our ship, One Ocean's One Ocean Navigator, holds position off Point Wild, Elephant Island. The whole island is a lump of rock in the middle of the Drake Passage and, as expected, the swell running is far too big to even attempt to launch a Zodiac. But the fog that was around at lunchtime has completely lifted and we have a great view of the island.
At least we can see most of the island apart from the bit we came to see. Point Wild is obscured behind the Gnomon, a 300m high islet just off the end of the point. The men of Sir Ernest Shackleton's Endurance originally named it Cape Wild after Frank Wild, their acting commander. It's subsequently been downgraded to a point, largely because (I suspect) the original cape has been so eroded. The beach where the men launched the James Caird to seek rescue is gone but the rocks in the foreground of Frank Hurley's photos are still clearly evident.
Thank goodness for Hurley's images. Without them, we'd long be arguing about which of the three points here was Point Wild. The written descriptions seem to more closely match a description of Cape Belsham to the west – and it too has an island off the point. Of course, there's a monument to the captain of the rescuing Yelcho on Cape Wild but you can see that only when the ship is in exactly the right position but far away or in the rare times when conditions allow a zodiac cruise or landing.
The temperature is around zero but it doesn't seem very cold in the bright sunlight. Most of us mill around and take photographs of each other with an Elephant Island backdrop. Then we have to leave to go somewhere where we can actually leave the ship tomorrow morning. As the ship turns towards the south and east we have a good view of the point behind the island. Those with keen eyes and good binoculars claim to have seen the bust on the plinth. The rest of us are simply content to soak up the sun – and try to imagine what this bleak glaciated land must have been like for the shipwrecked men living here for over four winter months in their tattered tents and upturned boat?

---
The Last Voyage of the Heroic Age – December 2, 2011
Antarctica always has a sting in its tail. After the long sail down from South Georgia we were all desperate to get off the ship and go for a walk. It's great to arrive in Antarctica – after all the magnificent scenery in South Georgia and the wildlife of the Falklands, suddenly we are in a black and white world with glaciers and black crags and black and white penguins, cape petrels and terns.
This morning the weather was kind to us and we landed at Half Moon Island, an island that looks very much like a croissant on a map. We land on a beach at one of the crunchy ends and the long walk climbed the tall fluffy pastry middle. Down the landing end there's a healthy colony of nesting chinstrap penguins, perhaps the stroppiest of the species. It was entertaining to walk up the hill and watch them in their squabbling domestic duties.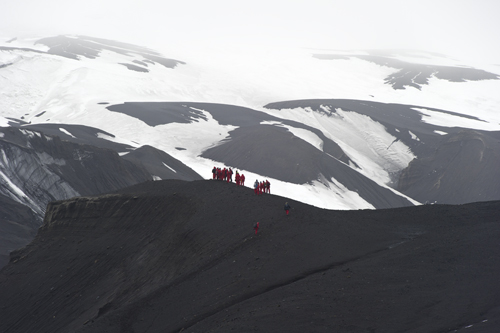 But this afternoon was Deception Island, an active volcano with a collapsed external wall so you can sail the ship right into the caldera. Once inside, you turn hard to starboard and land at the ruined settlement of Whalers Bay. Not this time – the whole bay was full of ice, no mean feat for an area of geothermally heated water. But we had no choice but to continue deep into Port Foster to Telefon Bay where we landed on a beach we'd never landed on and did a walk up a mountain we'd never climbed.
It was more interesting than Whalers Bay, provided more exercise and was something new. It turns out that the old sailors were right – the fastest [and most interesting] way through ice is to go around it – and to go somewhere else.
---
The Last Voyage of the Heroic Age - December 3, 2011
Tonight Angie Butler was awarded a medal for her work in restoring Frank Wild to the pantheon of polar greats – and to return him to his rightful final resting place next to The Boss. The medal was designed for Dr Mike Wain, a collector of polar medals including Frank Wild's by Angie's husband. It was a strikingly beautiful medal with a portrait of Wild on one side and a map of South Georgia with a cross to indicate where he's buried, on the other. She was completely overcome with the thought that had gone into creating the silver medal. We were pleased to recognise the significance of what she's achieved.